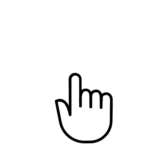 Hello friends! Recently I "tuned" a card game "channel-surfing" between a publisher event that hooked as soon as I tested it. Im speaking of Streaming. I tell you more:
INTRODUCTION
The game is presented in a small box with a white background and with a drawing of a hand zapping on a television showing a multitude of channels.
The art perfectly reflects the theme of the game: get the best channels that "hook" the audience to get the most subscribers to our streaming platform.
COMPONENTS
Streaming comes in a box of approximately 19x14x4cm
Inside you can find:
60 channel content cards
1 "Remote control" card
9 audience cards (with 18 different effects)
70 plastic discs
1 notebook to write the score
1 pencil
Rulebook in Spanish, English, French and German.
GAME MECHANIC SUMMARY
4 audience letters are chosen. These cards have different viewers sitting on a couch in front of the television. These cards are placed together on one side of the play area forming the couch. Each viewer is different and gives some bonuses to certain content for which they have preference. For example there is an older man who likes documentaries and you can try to subscribe to your streaming platform if you offer this content.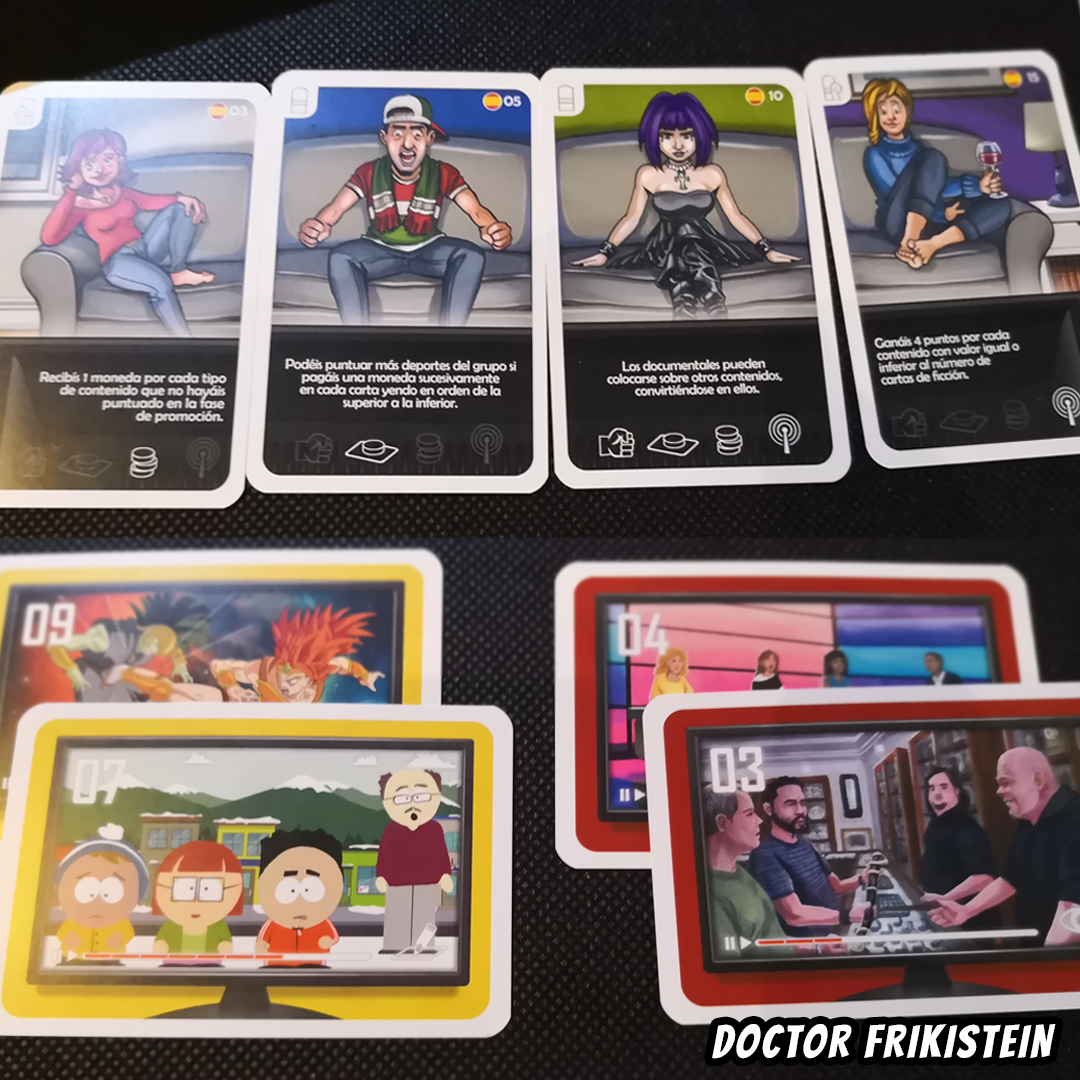 In the main game zone, several channel content cards are played. There are 5 types of content:
Fiction
Documentaries
Reality shows
Sports
Animation
The letters have a border of color according to the content to be able to differentiate them. For example, documentary cards have a green border.
Each player has plastic discs that represent coins. Players must use the coins to invest in channel cards using a bidding system.
Players get more points according to the amount of their subscribers they get for their listening platform. There are several rounds and the score is written in the notebook. The winner will be the one who gets the most final score!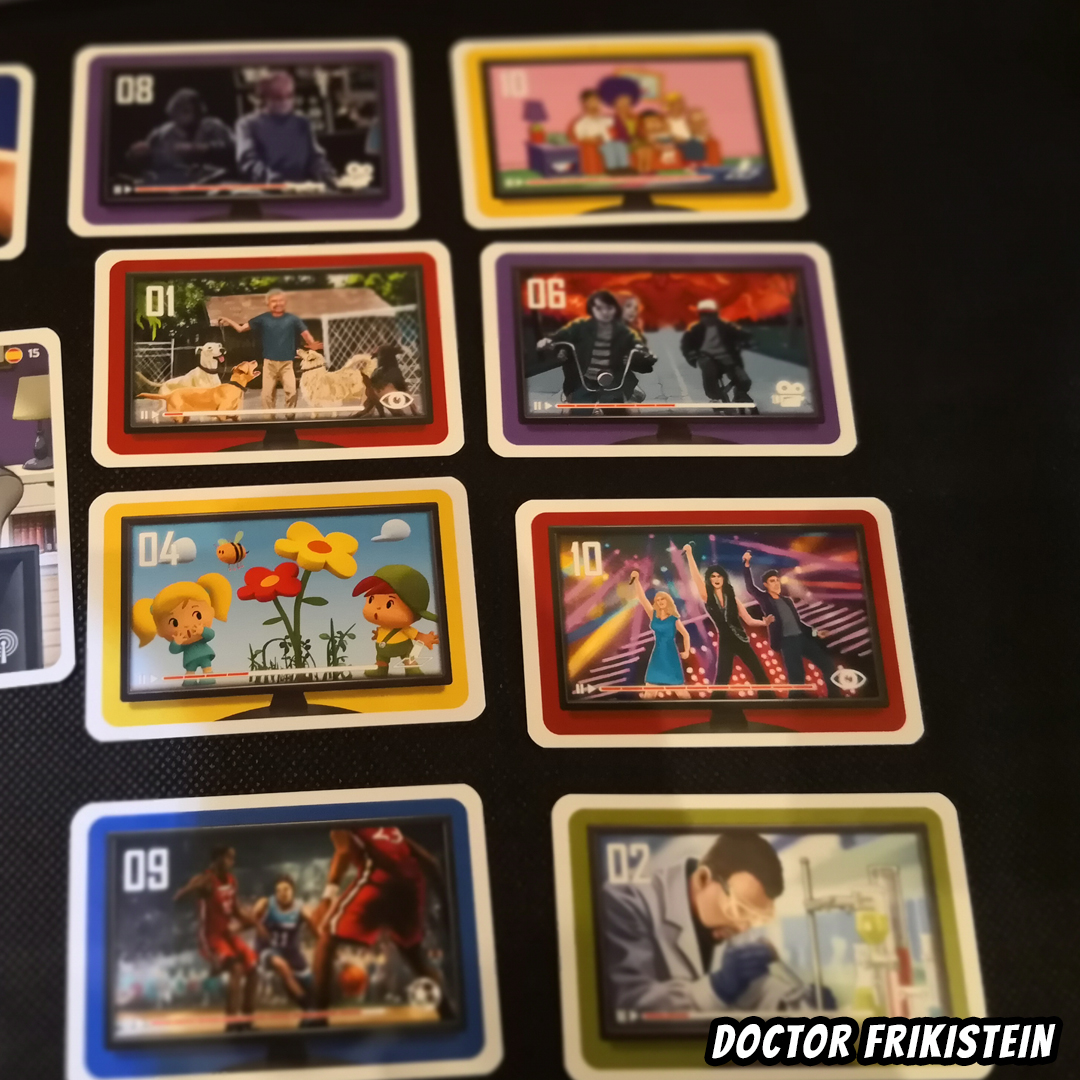 ANALYSIS AND RESULTS
FREAKISM:
I found a very original and current theme, with all this platform offer such as Netflix, HBO and to which are added others such as Disney, YouTube and even Amazon. I think that the author Victor Melo has managed to translate this growing competition between streaming platforms in a very successful way.
HYPE:
The game has hooked well between my group of players, without being a Filler in just over an hour you to play 2 games, the first to warm-up and the second to take it more seriously. The fact that the audience sitting on the couch changes in each game makes streaming a no repetitive game.
To say a objection I would say that the minimum number of players is 3 but it compensates for the fact that you can play up to 5 players.
SANITY:
The rules are relatively simple but you need a couple of games to understand them. The bidding system is very fun but requires managing your coins well. All in all, although the age recommended by the editor is 10+, I think it can be accessible to 8+ if it's explained well.
DELUXE:
I was surprised that in such a small box all the components of the game fit, since it also includes a notebook and a pencil.
The discs that are used as coins are made of quality plastic, although I would have liked some brand in the shape of a dollar or euro.
Undoubtedly one of the most remarkable aspects is the art. Up to 5 illustrators participate in this game: Pedro A. Alberto, Chema Roman, Carlos Romanos, Pedro Soto, Chema Vicente. Each one draws a type of channel content card and thus creates a kind of personal drawing by theme. I value very much the visual aspect of the game and finding all this art in the same game is a huge and pleasant surprise.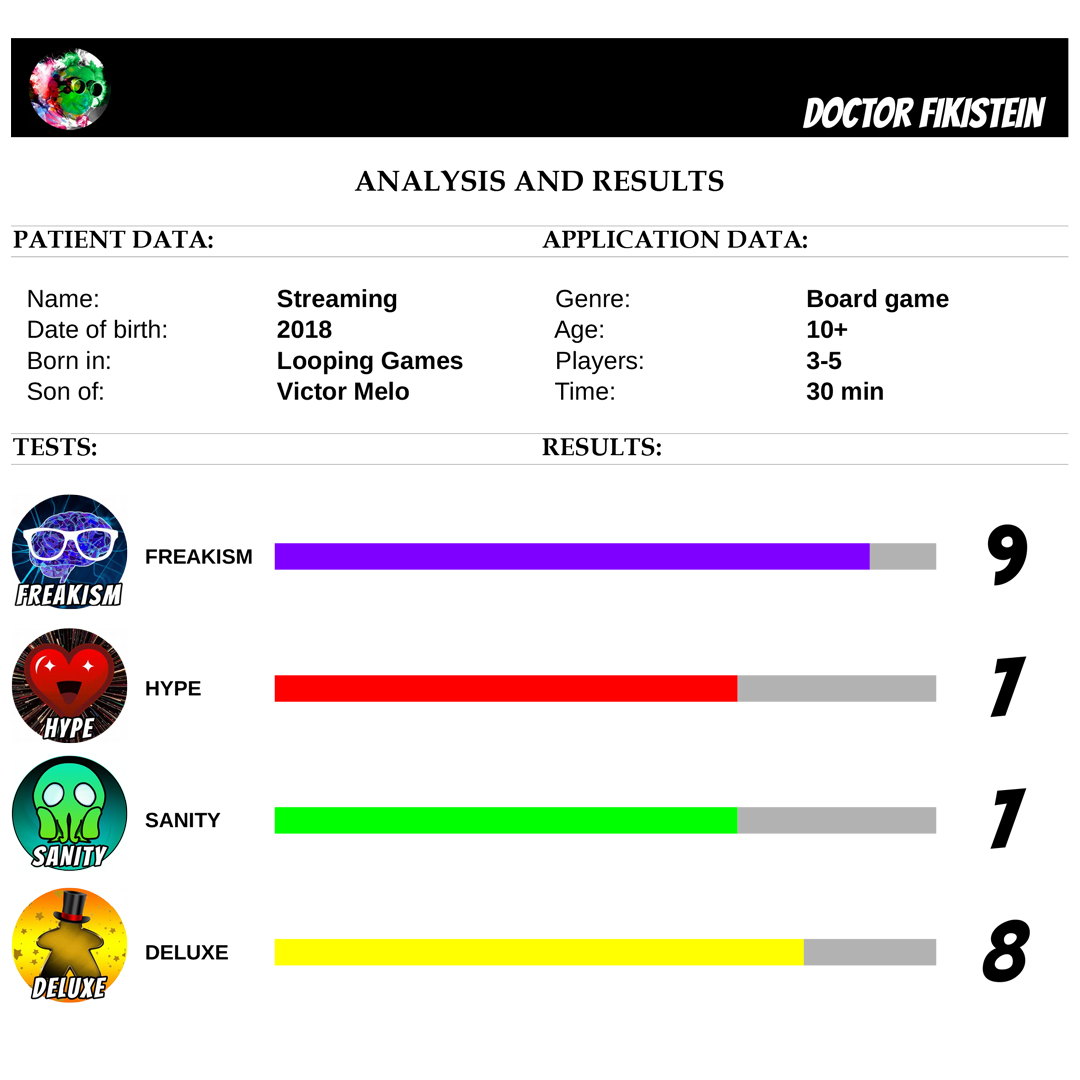 Many illustrations recall TV content and very successful series such as Stranger Things and The Simpsons. This always gets a smile out between players and no doubt that talking about them while you play is 100% geek!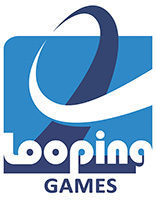 Other related articles:
As an Amazon Associate I earn from qualifying purchases, that I use to improve Doctor Frikistein's web maintenance, contents and projects.