In this article you will find the Review of the board game Dive, where we will explain the mechanics of this game, we will show you photos of its components and we will give you our opinion about it.

INTRODUCTION
In Dive, players represent divers who compete to see who can reach the deepest part of the ocean. To do this they will have the help of turtles and manta rays but they will have to avoid sharks.
GAMEPLAY OVERVIEW
The Dive board is made up of translucent plastic sheets with different aquatic plants and animals, including sharks. All these sheets are stacked and the images are confused. Each sheet represents a depth level. Players have to try to guess on which sheet the sharks are, so perception is important in this game.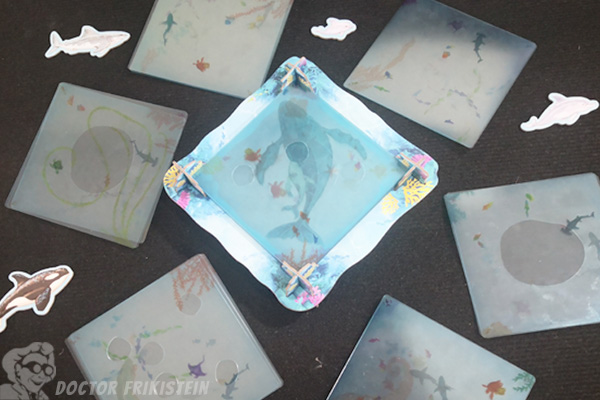 Each player has some numbered tokens that they will have to place on their diver board. Players will have to secretly indicate how many levels they want to dive into and which of them they think have sharks. The more right guess, the deeper the diver can dive to win the game.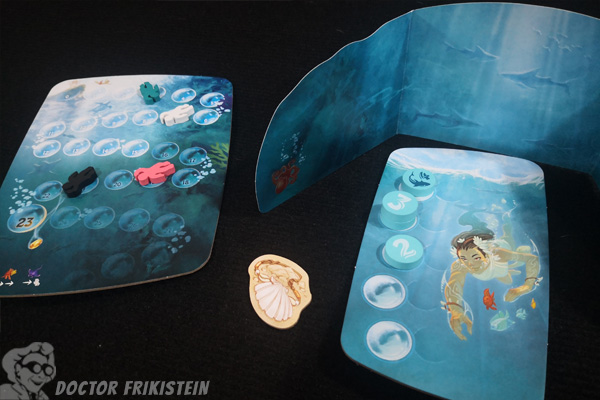 DATA SHEET
Name:                              Dive
Date of birth:                  2021
Place of birth:                 Sit Down!
Son of:                            Romain Caterdjian, Anthony Perone (designers), Alexandre Bonvalot (artist)
Genre:                              Board Game
Age:                                 8+
Players:                            1-4
Time:                                20-40 min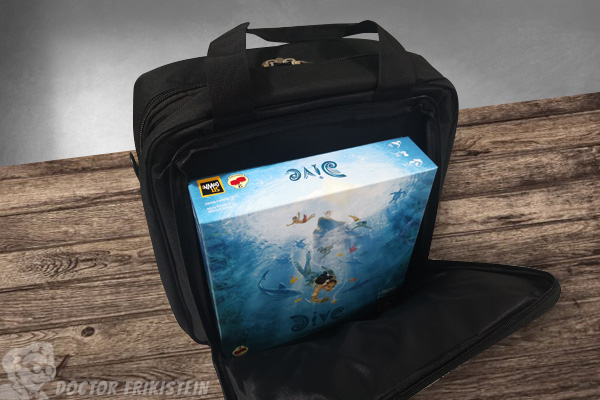 Dive in our Game Travel Bag
ANALYSIS AND RATING
FREAKISM (Originality, Theme):
Dive is set around the native divers of the Windbark Islands who have the exceptional ability to dive tens of meters deep into the ocean. Just as exceptional is the ability of this board game to recreate diving in these paradisiacal waters. The transparent tokens are very original and perfectly recreate the visual difficulty under the water. In the same way, the mechanic "push your luck" is very successful to put you in shoes of how much a diver is willing to risk and how he should manage his breathing.
Freakism rating:

HYPE (Excitement, Replayability):
Dive is not a game that hardcore gamers are going to ask you to bring to the table, but it does have its place for a family or casual audience. In fact, with 3-4 players it is the most fun and enjoyable. Due to its duration, it does not become a complete filler, but the truth is that the games are funny, light and possibly with a single game you will want more.
Hype rating:

SANITY (Difficulty, Rules):
Dive's rules are simple but somewhat confusing when first explained. However, as soon as you put them into practice you see that the game is very easy and quick to learn. There is also an easy variant for children, so although the game is recommended for ages 8+, children 6+ will be able to understand it perfectly after the first game.
Sanity rating:
DELUXE (Components, Design):
The strongest point of this game (and that's no small thing). All the art and components in Dive are wonderful and quality. Transparent sheets are not only original, they are aesthetic and beautiful. And as if that were not enough, the Dive box is designed to have the game perfectly organized.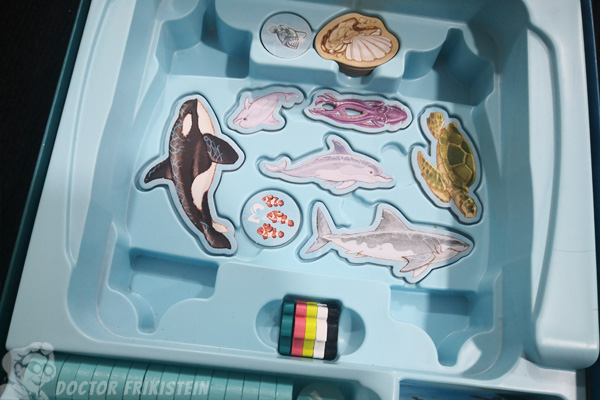 Deluxe rating:

CONCLUSIONS
Dive is a game that looks wonderful on the table and will attract public to sit down and play it. It is not a "party game" but it is an ideal game to spend time with family or friends who are not hardcore gamers and introduce them to the hobby. It presents mechanics not used as often as they could be rolling dice or playing cards. Its perception mechanic using transparent sheets give it a "fresh" and innovative touch, which, added to its aesthetics, make it an original and special game.
Our final BGG rating: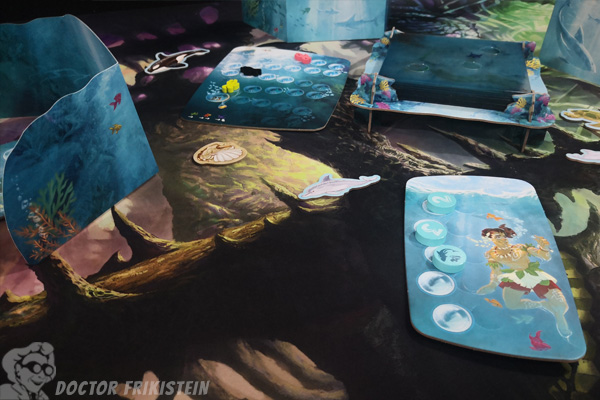 Dive on our table mat
The Doctor Frikistein® reviews are made without any sponsorship and with games purchased for our property.