In this article we explain a new product that we are working to launch during this year 2020. It is a Dungeon Master screen for role-playing games, but it can be fully customizable and compatible with all role-playing systems.
CONCEPTUAL IDEA
The Master's screen is one of the most used accessories to play role-playing games. A Master screen has 2 main functions:
Hide game information used by the Game Master offering privacy to the Master's annotations and dice rolls.
Show information and quick reference tables to the Game Director.
Normally each edition of the game already has its own version of the Master screen, with its artistic theme and reference tables for its own system. But what about those own systems, home rules, or simply if you want to customize your own Master screen. In Doctor Frikistein we are going to offer you a solution with our customizable Master screen.
FEATURES
The current prototype has the following features:
4 Horizontal Panels. Because we think that, like modern master screens, it does not unnecessarily obstruct visibility between the Master and the players.
Panel size 30.5 x 21.5 cm. This size allows the common size A4 paper to be used for customization.
Panels background in black. In this way you can combine it with all kinds of illustration of any color … and because it is our corporate color 😉
Pockets on both sides of the panels. These clear plastic pockets will allow you to place your A4 the way you want and the way you prefer.
Dry-erase pockets. You can also draw and write on these pockets with erasable markers because they will be made of Dry-erase material such as whiteboard.
Quick reference tables adapted for DnD 5e. We will include all the existing information on the most popular game system and much more.
Own artwork included. We will include our own art with a theme of Summoning Spellbook. We explain more about this.
SUMMONING SPELLBOOK
El tema artístico de nuestra Pantalla para Master será un libro de magia para invocar criaturas. Pensamos que esto refleja muy bien el papel de Director del Juego, en el cual describe las criaturas y estas son "invocadas" en nuestra imaginación.
Habrá 4 papeles A4 para incluir en los bolsillos de la pantalla Master. Cada uno de estos papeles tiene por un lado un dibujo de una tapa de libro de magia con un sello mágico de una criatura fantástica. Pero por el otro lado del papel habrá un dibujo mucho más impactante de la criatura "invocada" rompiendo y saliendo del grimorio.
Aquí os adelanto 1 de estos ejemplos:
The artistic theme of our Dungeon Master screen will be a spellbook to summon creatures. We think this reflects very well the role of Game Director, in which he describes the creatures and they are "summoned" in our imagination.
There will be 4 A4 papers to include in the pockets of the Master screen. Each of these papers has on one side a picture of a magic book cover with a magic seal of a fantastic creature. But on the other side of the paper there will be a much more striking picture of the creature "summoned" breaking and leaving the spellbook.
Here we advance 1 of these examples: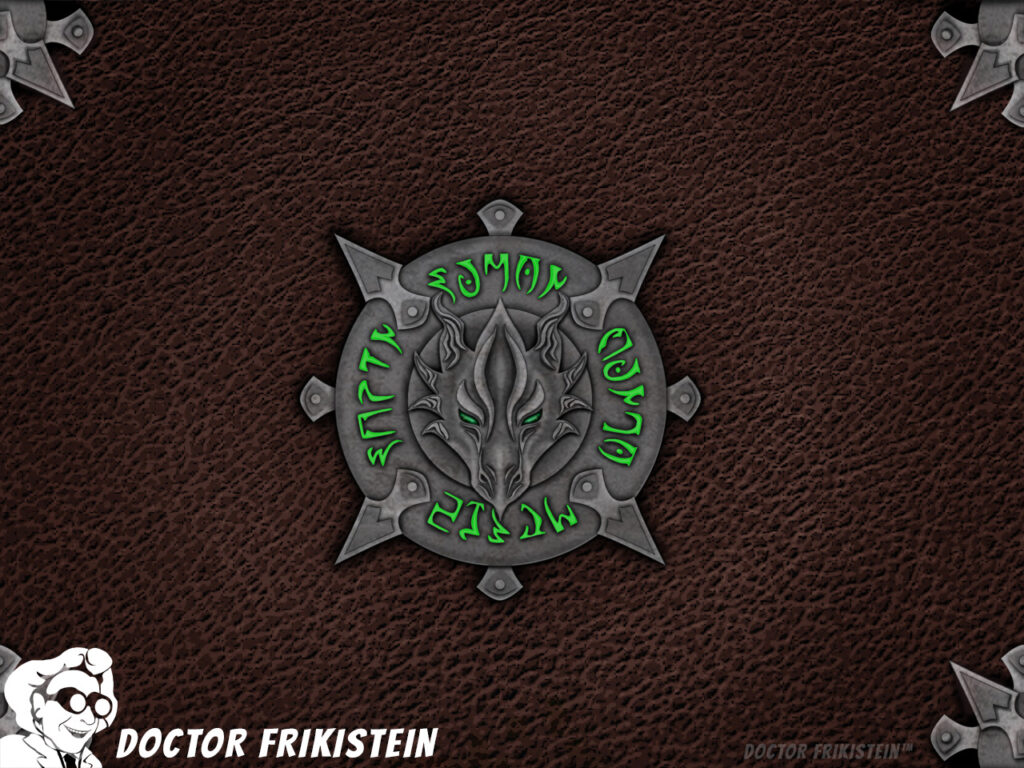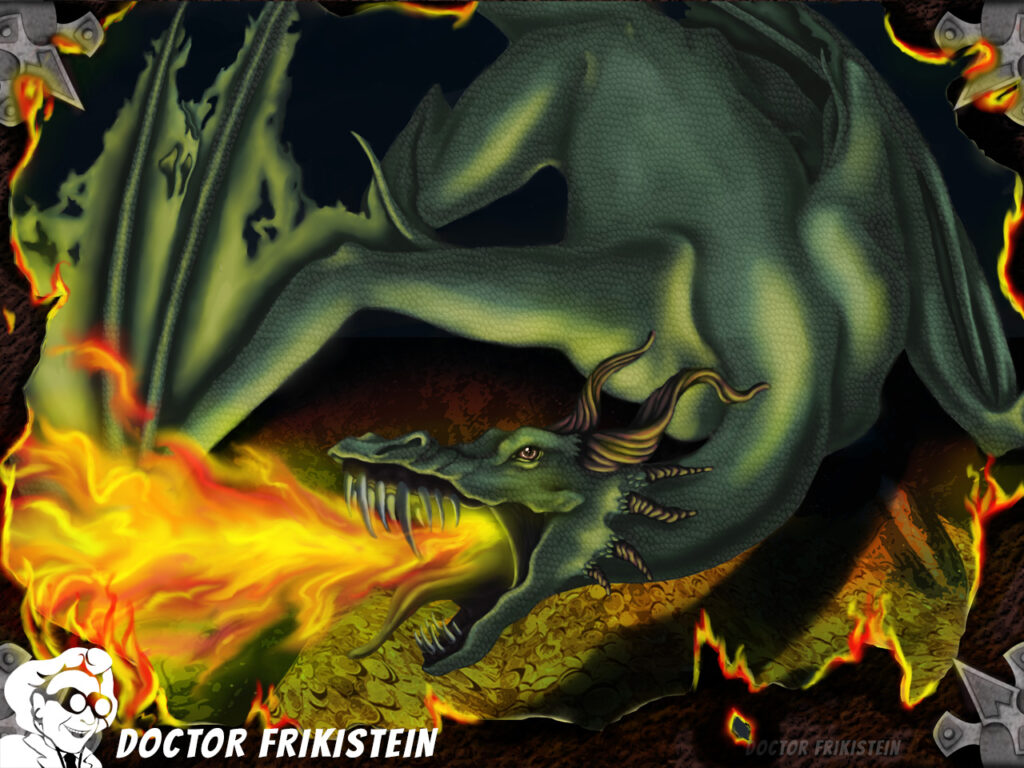 ADAPTED TABLES AND QUICK REFERENCES
Nuestra pantalla Master vendrá con tablas de referencia rápida adaptadas para Dungeons and Dragons 5a edición porque es el sistema de rol más popular. Pero nuestra idea es ir añadiendo descargables gratis con tablas adaptadas para sistemas.
La adaptación de estas tablas que estamos haciendo es para poder incluir toda la información que ya las propias tablas editadas existen pero para 3 paneles, dejando 1 panel libre para mapas y anotaciones y aprovechar el máximo el potencial Dry-erase de nuestra pantalla Master.
Además queremos incluir en la medida de lo posible otras tablas y referencias que creemos que sería útil incluir, como los diferentes tipos de modificadores de combate por arma o combate en montura, daño por combate y mucho más.
Our Dungeon Master screen will come with quick reference tables adapted for Dungeons and Dragons 5th edition because it is the most popular RPG system. But our idea is to add free downloadables pdf archives with tables adapted for other systems.
The adaptation of these tables that we are doing is to be able to include all the information that the edited tables themselves already exist but for 3 panels, leaving 1 panel free for maps and annotations and taking full advantage of the Dry-erase potential of our Master screen.
In addition we want to include as far as possible other tables and references that we think it would be useful to include, such as different types of combat modifiers for weapon styles or mount combat, not-combat damage and much more.
YOUR OPINION IS IMPORTANT
If you have any idea or feature that you would like us to incorporate into our Master screen, please let us know. Our goal is to manufacture products that improve the player experience. That is why your opinion is very important for us.
Thank you very much!